Adieu Anew
I never thought I could be alone. I really am not alone anyways, I am guarded constantly by two stinky pit bulls and a television blaring. Mind you, the Bose system blares and bumps, the surround sound surrounds, the television silent all the while. But I sit here, sole human and all, mindlessly staring through two year old movie after movie, comedy after romance after bad joke. Cherry Vanilla...
I am wondering how I am having so many nightmares when I can't even sleep. I can't find a job. My money is running out. I am lonely. &the world goes on without me.
I've been good lately taking the correct ways home. Even though I know my travels get me into your bad graces. I flew to Providence  and brought you home Colonial Bitters. I took it out of my Jeep suitcase. I drove to New York City and brought you home Katz's Deli. I left corned beef at your door. I drove to Philadelphia and bought you a rare EP. You let me spend the night...
Funny you should mention it. I'm actually really angry and upset & officially am beginning to hate you. Wisen up a bit. Listen more. Talk less. You helped me mess this up. I changed the world to fit you and I in it.
Lord I was born a rambling man Just trying to make a living Doing the best I can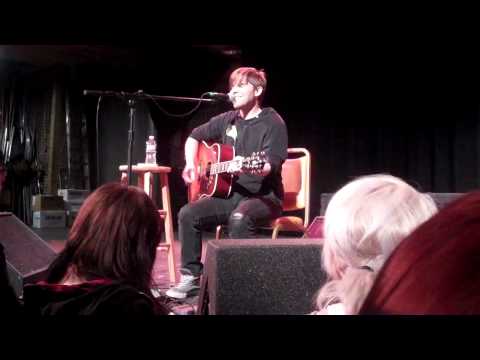 The last two texts I sent
"Keep it all. I don't want to go back there again." "I just don't want to go back again. Keep it or leave it I don't care." …to a move that took six months. And you respond with a picture of the cats. Like I needed to cry more.
The greatest part of it all was walking by myself talking to myself thinking of myself.
Experiment In Expectation: Here's the common... →
Kudos Will. awhisperpoetic: Let's say 5 people go out to dinner, and end up with a bill totaling $150. Four of these people have cash, the last one using their credit card. Everyone with cash looks at the bill to see what they owe. One person owes $40, one owes $50, one owes $30. The first common mistake is that people who…
Watching Public Enemies
At some point I'm just going to tell you to shut up and buzz off already. But not just yet.
Acoustic Tour and Ticket Links →
antpants: I am starting an acoustic tour this month with my friends Chris Conley (Saves the Day), Ace Enders (Early November), Matt Pryor (Get Up Kids) and Evan Weiss (Into It.Over It). Click the link for all of the dates and ticket links
Craigslist Job Postings
At one point in my life I thought I would have been clicking on things like "Geotechnical Engineer" or "Videographer Needed" but alas, I have hit my own personal low tonight when I clicked on "Bikini Bartenders Daisy Dukes Coyote Ugly Style." Da fuck's wrong with me? What did I think, it would have been eloquently written for a respectful job where you...
This is a home.
    …But I'm spiraling. I'm losing sight of so many things, so many goals I had set for myself. There are things that I thought were a part of my soul that now I am questioning. I am lacking any direction or feeling of purpose, working just to keep a small ball turning, to keep a façade of normalcy. I keep these things in motion but realize I am drifting farther each day from what I want to...
These are pretty good. →
Not entirely worried about  visible quantitative progress. My mind knows where it's been.
Find Finagle Fine Finite Final Finale Finish
7 tags
5 tags
6 tags
My dreams are pretty sometimes.
I spent three hours floating in the sea. I heard your feet hit the sand a half a mile away, swam in to say hello. We stood looking at the dark waves grow larger. "I'll be right back." I said, "I left my purse in the ocean." I swam out hard because the waves were more violent this time. I woke up naked in a restaurant and clinked my wine glass to yours.
"When I came home from so many journeys, I stayed suspended and green Between..."
– Pablo Neruda
Entourage is drowning out my thoughts, men speaking aimlessly about ridiculous things. Craving nothing but tacos, chocolate, and alcohol, but attempts to leave bed have been hopeless. I'm angry when I have no right be. I'm scattered and I deserve to be. I can't live my life from two different places. I know, I know, I know.
Mountain Dew Commercial Disguised as a Love Poem,...
Here's what I've got, the reasons why our marriage might work: Because you wear pink but write poems about bullets and gravestones. Because you yell at your keys when you lose them, and laugh, loudly, at your own jokes. Because you can hold a pistol, gut a pig. Because you memorize songs, even commercials from thirty years back and sing them when vacuuming. You have soft hands. Because when we...
"If you tell the truth, you don't have to remember anything."
– Mark Twain (via kari-shma)
"Say with me loud and trembling but loud and clear, "I have already emptied..."
– Anis Mojgani
In accordance with blah blah blah blah.
Isn't this the moment we were both waiting for? Fucking spit it all out at me. You've been wanting to.
Point A. alone in a crowded room. Point B. alone in a crowded world. F.
You were right. Disaster. Us. Now I'm far too far, with plenty of bug bites.
I haven't listened to this band for years. This... →